Call Us Today on
+1 647 293-9904
Our Process
Causal Effects Inc. has developed a unique approach to blending information and data from Application Performance Management (APM) and other system tools with information and data from Web, internal and external sources. We use visualization and analysis techniques to develop actionable insights and to achieve desired outcomes.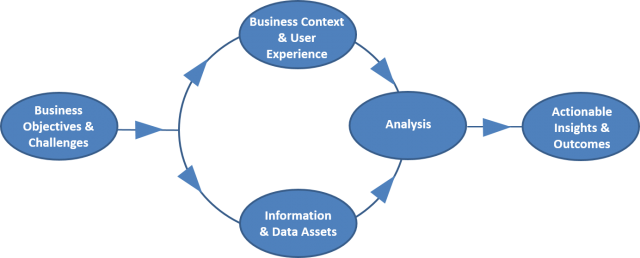 Business Objectives & Challenges
We work with you to understand your business objectives and desired results. We begin with the symptoms, issues, problems, challenges, and constraints that your organization is facing and wants to address. Our focus on desired outcomes means that our analysis is executed to balance the depth and breadth needed to produce real actionable insights.
Business Context & User Experience
What sets Causal Effects apart is our ability to include business context and user experience information to create business relevant insights. Leveraging business and user data allows the business context to be captured and integrated into solutions.
Information & Data Assets
Causal Effects' ability to capture, merge, and fuse data and information from multiple sources enables the development of a fuller all-around view regarding the symptoms and user experience issues being faced by an organization.
Our data and information is drawn from surveys, internal and external systems (e.g. CRM and third-party systems) and user experience data from APM systems and tools.
Analysis
Causal Effects uses visualization and analysis tools to combine data from disparate sources to explore correlations and patterns among the symptoms and with system behaviour. We examine user, network, application, and database information to understand the causes of the symptoms and the impact brought by a potential solution.
Actionable Insights & Outcomes
We work closely with you to interpret and analyse the data to develop insights and identify actions that are relevant to your business context. We work with you in the development and implementation of insightful new information and reporting streams, process enhancements, and required actions, to achieve your desired outcomes.